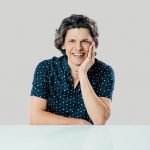 SINTEC project starts its third year and we asked to our project partner, Gustaf Mårtensson, what his main activity has been focused on but, especially, which have been the first achievements obtained.
Here's his answers!
Mycronic has primarily been focused on the development of a robust, accurate and commercially viable method of production of soft and stretchable electronic devices for the sake of physiological monitoring. Together with the team at Uppsala University, we have tested the individual production modules including material deposition, for example of liquid metal alloy for interconnects, component placement, and material inspection.
Mycronic has studied the sustainability aspects of the production methodology by performing a comparative  life cycle analysis and documenting their legislative aspects.
Schematic of manufacturing of stretchable device with integrated PCB
One the main achievements by Mycronic in the SINTEC project is the establishment of a possible manufacturing process for the production of stretchable electronic devices. The most novel work in this area concerns the deposition of liquid metal for the purpose of conductive interconnects, which was performed together with the team from Uppsala University. Another important achievement was the establishment of a process for life cycle analysis of the production of electronics.